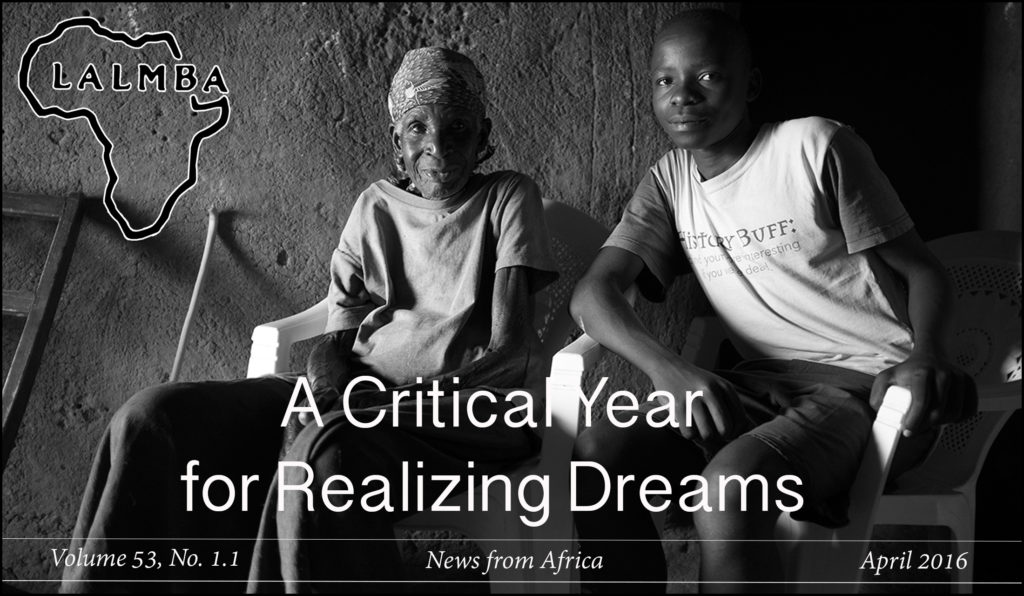 by Jeff James
Evance Chieng dreams of going to college. The honor of being the first in his family to do so is a bragging right few in his community can boast. His grandmother, Rujina Abusa, reminds him often how proud his parents would be (had they survived the HIV epidemic) of his success.  Thinking of them, and his grandmother who has suffered the loss of 6 children to the same disease, encourages him to work harder. Her smile and determination inspire him to persevere.
This year is a critical year for Evance.  He is in 8th grade, and will graduate from Lalmba's children's program at the end of this year.  Unless he qualifies for one of our coveted scholarships for secondary or trade school, his scholastic career ends soon. Fishing is his backup plan. It's the practical path that most young men choose from this lakeside community.
Knowing the odds are slim and the competition steep, Evance seems unconcerned.  He believes with all his heart that this time next year he will begin high school.
Sadly, less than 10% of the children in our program are able to continue with formal education beyond 8th grade.  Why is that?  Well, mainly it's the prohibitive cost for families living on less than a dollar a day.  School fees are not even a consideration. Primary education costs about $40 per year, and secondary school is about $300 per year, way out of reach!  Scholarships are few.  Evance and 100 other 8th graders will compete for Lalmba's 30 coveted scholarships.  30 is not a magical number; it's simply what we can afford, as we focus on primary education for almost 1000 younger students.  We'd love to provide a scholarship to high school for each child who qualifies.
In fact, when I was there in January, our Children's Director in Kenya introduced me to 8 students who qualified for a Lalmba scholarship, but because their test scores were marginally lower than their peers, Lalmba did not have scholarship budget for them.  I felt for those 8 students. They are smart children, ambitious in their hopes, tireless in their work.  It would be unjust to extinguish their dream so soon, I thought, tossing them to labor on the lake before they've had a real chance to break away and heal their families, families trapped in a cycle of perpetual poverty.
We have to make some very difficult decisions sometimes in this work; decisions that could have generational ramifications for a family. We're a small organization with limited resources, and we take pride in our philosophy of doing the most good with little. But for these 8 kids, we made the decision to increase our fundraising by $2400 for the next 4 years and give them the opportunity to change the course of their lives. That's a commitment I feel good about making.
High school in America is an opportunity we take for granted. It's a birthright in our minds. But for these kids, a high school education is a rare opportunity. And if given the chance, not a lesson will be squandered, nor a class missed. These students know what's at stake.
When we told them that they would, after all, receive a scholarship, a breathless silence filled the room, and then it lit up with unbridled joy!  If the energy of happiness could be harnessed and sold to the highest bidder, that moment would have been worth a billion dollars, and our perpetual budget woes would be over. But happiness's value is not monetary; it's more meaningful than that.  And although the moment was fleeting, a sense of hope now shines prominently in their minds. The family story can be altered; a happy ending is once again possible.
---
As we begin a new year setting new goals, we want to keep you, our generous supporters, informed.
In 2015 our operating budget was $552,000, and we raised about $565,000.  It was the most financially healthy year for Lalmba since 2008. Because of that and because of your generosity last year, we were able to increase funding to our microloan program by $10,000, helping more needy families start small businesses to get on the path to independence.  And, of course, with our addition of scholarships for these 8 deserving kids, our budget this year is $565,000, to the dollar of what we raised last year. How's that for running a lean, sustainable program?
Please keep us in your prayers and help us when you're able to fulfill our mission of providing hope through opportunity.
Or, you can use PayPal to make a donation by clicking the below link: