This is Part 10 of a multi-part essay that chronicles Tembea Na Mimi, a walk across Kenya.
By The Walkers of Tembea Na Mimi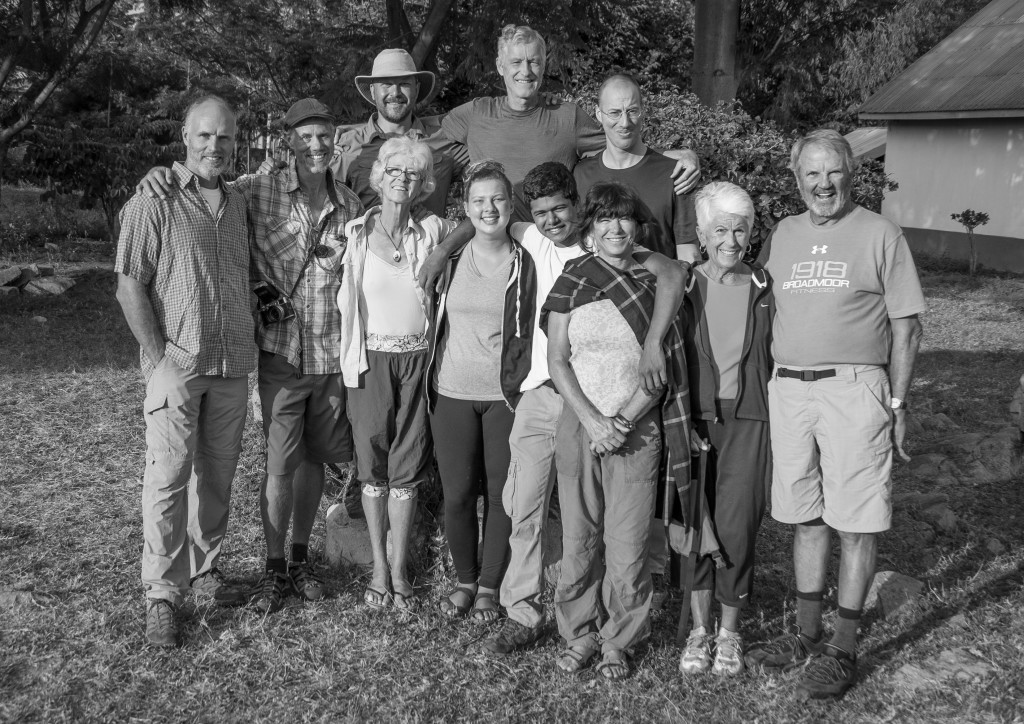 ---
True inspiration comes from remarkable and unexpected places. It compels us to move, sometimes with a ferocious shout and other times with a soft embrace. True inspiration impacts the soul and excites the heart. For me it came from the brilliant red fire of a morning sunrise. It came through messages of support sent halfway around the world. And it even came from a tiny ladybug that comforted me at a time I thought I couldn't take another step. Without inspiration, none of us would have completed this walk.
It is difficult to describe what this journey meant to each of us. Each of us experienced joy, sadness, adversity, friendship, fear, compassion, pain, beauty, and most of all love. We experienced all of this in our own ways. We each had or own journey and challenges to overcome. We all had to deal with our inner self, our past, our present, our future.
All of that and more was our constant companion. It drove us to take our next step and defeated us in the step after that. Sometimes we could look to the sides and witness the amazing beauty of where we were, and other times all we could do was look at the ground right before our feet. The miles passed by in a slow motion blur. Its just over the next hill. That was our mantra. I was never sure what hill we were talking about.
While we all shared the same journey and we followed the same paths, one of us carried more weight on his shoulders. The weight of responsibility is an incredible burden. It is a weight that in truth cannot be shared, only temporarily relieved. Some carry it well, others struggle mightily. Jeff James is one who carries it like a feather. He never showed signs of being discouraged. He never put himself first. Even after the walk, with all of his blog postings, he only talks of the strengths of others. As if we were the strength of the group. No, that strength came from our leader. The walk was his vision. The planning was his doing. He was our inspiration.
Jeff simply said Tembea Na Mimi. And we did.
And I for one am very thankful he asked.
— Rob Andzik
---
In one of his blog posts, Jeff described the ability of our Maasai guide, James, to see animals at a far distance and our hope to develop this Maasai Eye. Jeff James, an exceptional man has an even more exceptional eye. He has the ability to see into the hearts and souls of all he meets.
On day 7, I was feeling just a bit off. I wasn't sure what was wrong, maybe I was just tired, cranky or just feeling sorry for myself, or all three. As I was having this inner discussion, Jeff walked over and asked if I was ok. Caught off guard, I immediately answered yes, I'm fine, but wondered how did he know that I was not quite right. He knew I wasn't myself that morning because of his "eye", that ability to see people not just on the outside, but their inner being.
As we finished our walk and reached our goal of Matoso, I watched Jeff with admiration, as he saw into the hearts and souls of all we met, but mostly the poor, the sick, and the children. Yes, James was amazing in spotting those animals in the distance, but Jeff does what Christ calls all of us to do  – to really see the poor, the orphans, the widows and the sick.
Thank you Jeff James for being the man you are. I feel blessed to know you.
— Terry Robinette
---
Thank you to Jeff:It is hard to believe the trip to Kenya has come and gone. I remember the night I first learned of the trip, going to the mailbox and seeing the latest newsletter from Lalmba. As soon as I read the article about Tembea Na Mimi, I knew I wanted to take the trip and see what the organization I had been contributing to was all about. I submitted my application to be a walker. The trip didn't seem real; it was so far in the future. I soon returned to my daily life, not thinking about the trip until the next email came wanting a commitment that I was "in" for the trip. I sent my commitment. I was "in", yet the trip still didn't seem real. That is how it went over the next several months with each new email — here are the dates, make your travel arrangements, here are the supplies you will need, don't forget the malaria medication. I took each step moving closer to the trip, but it still didn't seem real.
During this time, I could begin to see Jeff's personality take shape. I sensed Jeff's excitement about the trip and his love for the people of Africa. I could see his sense of humor, including giving everyone a nickname. Mine was Joe "the Cape Buffalo" Synk. Really, I couldn't be a lion or something? I could sense his humor in the quote he chose by Winston Churchill to inspire the trip "If you're going through hell, keep going." I saw his humor again after reading another one of his emails, as I reassured my daughter that we wouldn't be listening to carnivorous sounds at night.
Finally departure day arrived and I was at the airport saying goodbye to my family. A little over 24 hours later I was in Kenya leaving the airport to finally meet Jeff. I am still not sure how he knew it was me, since he had never seen a picture of me. Maybe he was just asking every guy if he were named Joe or maybe I just looked that lost and out of place. Either way, the greeting was warm, like we were old friends seeing each other after a long absence.
The next two weeks were amazing! It was fun getting to meet and learn about the other 10 walkers that had signed up for the trip. We experienced the people of Kenya and learned more about their culture. Seeing the Lalmba clinic and orphanage and meeting the staff was inspiring. Phenomenal, the only word to describe viewing animals you pay to see in a zoo in their natural environment. I also found out Jeff wasn't kidding when he talked about listening to the carnivorous sounds at night.
Over those two weeks I had time to talk with and get to know Jeff. He is a proud husband and father, a strong leader, is able to persevere through mental and physical adversity and is not a bad singer. My initial impressions of Jeff through his emails were correct. He has a huge love for the people in Africa and wants to help empower them to have a better life. He also has a great sense of humor.
I do feel I made an impression on him as well. It was the third or fourth day, when we came upon a group of Cape Buffalo during our walk. We stood in silence, our group staring at their group, trying to decide who was more intimidating and should have the right of way in the Masai Mara. It was at this point that Jeff showed some of the traits he had picked up from me, as he "quietly and firmly led" us in a retreat, from behind, after forgetting to tell the rest of us.
As I sit here and reflect on the journey, having plenty of time for reflection since losing my job due to my blown CIA cover story, I want to thank you Jeff. First, for initiating such a wonderful and life changing trip. You billed it as a trip of a lifetime in your first email, and it lived up to that billing in every single way. Thanks for all of your hard work and preparation to make the trip a success and keeping us safe throughout our journey. Secondly, I want to say thank you to you and your family for the hard work and sacrifices you have made to dedicate your life to the Lalmba Association. From my time getting to know you on this trip, I feel that Hugh made the right choice and left Lalmba to a great leader and very intelligent man who will help to continue the good work the association has done. I look forward to seeing what other ideas you come up with to help get people like me involved and do more than just write a check. Good luck to you and Lalmba and hopefully another 50 years of helping people in Africa.
— Joe Synk
---
Apropos Jeff James.
Jeff,
I have to go back to my last line in your Limerick in the ode that I appropriated from Handel's Messiah .
WONDERFUL because you are –
W = warm
O = on time
N = natural
D = determined
E = engaged
R = rare
F = funny
U = uplifting
L = loving.
COUNSELOR because you were. You provided wise and gentle counsel to everyone at some point in their very personal and public journeys.
EVERLASTING FATHER- once a dad always a dad. You played with and tended to the child in yourself and the rest of us as well as never forgetting those we were walking for. And as for the…
PRINCE OF PEACE, what can I say? Your patience and quiet but resolute focus kept us putting 1 foot in front of the other with heart, head and soul.
Asante Sana Mwalimu with love, gratitude and the greatest respect.
— Thea Nation
---
One of the joys of our trip was getting to know you and to become aware of your many talents: a wonderful leadership ability; quiet confidence; calm under pressure; able to adjust to changing circumstance constantly; bringing a disparate group of strangers together in pursuit of our common goal; setting a tone of respect and support for all involved in this unforgettable adventure.
And now, Jane and I marvel at your writing ability. You have "nailed" Thea, Michael, Joe and Helena, and if past be prelude, will do the same for each of your fellow walkers.
Thank you,
— Pete Obernesser
---
The image of the shepherd comes to mind when I see Jeff in many of the pictures. He is walking sometimes with a stick, sometimes alone in his "zone", but, mostly walking with others sharing his excitement of our adventure together. That image has stuck with me through all the days of the trip. Like the good shepherd, he was always checking on us, seeing if we were ok, encouraging those of us "blister" weary and tired.I was always amazed how many things needed his attention: schedules, trips to the airport, arrangements for cars and vans to take us places, places to stay and places to eat, medicines and supplies he had for us, camels and drovers, communications with John and Amanda, the list goes on and on. All of that work done with a servant's heart, joyful and giving. What I loved seeing most was the joy he had watching all of us experience the purpose of this trip: to see the work up close and personal, the work of Lalmba. He has a poet's heart as is evident in the blogs that we have all been blessed to read.
As we rode up the escalator in Denver, I could see Hilary and his kids waiting at the top. He turned to me with the biggest smile on his face, "those are my kids!" The world is lucky to have such a man in our midst. The shepherd is home.
— Jane Obernesser
---
The warm rising sun slowly peeks out over the grassy African terrain, bathing the crisp, cool morning in a shower of gold. With a documented distance behind us, and an uncertain journey ahead, it is the start of another beautiful, yet trying day. Our group of walker scattered out among our guides begins to navigate the land, trying to ease into the rhythm of walking that had dominated our waking hours for long enough for it to feel routine.
We head west, starting on the flat land with grass that towers up to the waist, and working our way towards the hills in the distance. We are alone, carving out our own path from nothing like the tracks on the moon. I look back, and somewhat silhouetted by the sun, I recognize the figure of Jeff James striding foot after foot, pace after pace, cool and confident, leading by doing. He looks relaxed as he follows his shadow into the unknown. But I know that that is not the case. Blisters cover his heel, his arch, the ball of his foot and all of his toes. Each step a battle, in itself. A war against himself.
He catches my eye. I smile and ask him how he's feeling as I angle my trajectory towards him.
"Hurts like hell, but its fine!" he replies with a jolly smile. This is one of the many wonderful things that makes Jeff the amazing, unique person whom he is. His "every day's a good day" attitude and ability to tell his body to "shut up and listen, this is what we're doing" made him a huge role model, not only for me, but -I think all would agree- for us all. His leader ship and impeccable commitment to his organization and its cause has lead him to many adventures on the African continent.
After our trip together there are few I would rather travel with and ever fewer whom I have more respect for. I can only be grateful for the three weeks where he was a father figure and the opportunity to make a life long friend. I can only hope that maybe, just possibly, there will be another adventure in store for us.
Gideon, Chiri and Jasper, you have an amazing dad! Thanks for sharing! And thank you Jeff for an experience that will always drive me from now on, and one that I will always treasure deeply and miss with all my heart.
— Yogesh Aradhey
---
Jeff,
In one of your posts about a TnM walker you mentioned how difficult it often was to look up from where we were placing our tired feet—in order to appreciate where we were and what we were seeing. I had the same experience. But after several days I realized that looking up—and then breaking my ankle—was a bad tradeoff. Appreciation is not a cerebral exercise; it is a 'whatever-is-possible-at-that-moment' impulse which is accomplished by the heart rather than the head. Whenever we can, we should just look up and feel grateful for what we've been given.
So let me "just look up" to you, Mr. James. You had the imagination and the courage to float this idea in the first place; you worked hundreds of hours to make it a reality for Lalmba and for each of the walkers; you gave up time with your family; you personally welcomed everyone at the airport; you 'herded' 10 'cats' into a formidable group of trekkers; you were patient and kind but firm; you made wise decisions when tired; you never complained about your own dreadful blisters; you demonstrated a photographer's eye for the feelings and tones between people; you loved your brother; you always had in mind the goal of our walk.
The successes of Tembea na Mimi were always "ours," but the responsibilities were only "yours". In short, 'Wonderful, Counsellor, Father, Prince,' you carried your pack.
I look up to you, and I'm grateful.
— Michael Nation
---
The white king of Kenya.
I've known this man my whole life, but after plodding dusty roads, rocky trails, and grassy plains along side him, I know him better and respect him more than I thought possible.  He carried a larger burden and suffered more gruesome wounds than all of us.   He showed us a world that is difficult to capture in words and best seen through his lens.  When part of the group wanted to press forward and another part wanted to pull back, he held us all together.
I will value this shared journey together always.  Our tents were close enough that I could hear him rise and start packing his gear in the wee dark hours while the rest of us slept and wished away the start of the day.  We shared quiet moments with cups of instant coffee in the dark busy mornings as the camels were loaded. We both seemed to wander all along the camel train separately from front to back, but when we weren't paying attention, somehow gravitated to each other and silently walked side by side for miles feeling a comfort and assurance I have known all my life.
Approaching the second anniversary of Jeff and Hillary's leadership of Lalmba,  it is difficult to imagine anyone more suited for this position.  He is compassionate to those in need and he is direct with those under his supervision. The Kenyans from Nairobi to Matoso love him and respect him, as do we who walk with him.   Those that care about Lalmba's mission can be confident in Lalmba's future.
— David James
---